Another day, another sickening sign of the fascism that awaits America if Obama is elected. This time it's Andy McCarthy, a former Federal prosecutor who convicted the "blind sheik" behind the 1993 WTC bombing, warning that "stifling political debate with threats of prosecution is not the "rule of law" — it's tyranny."
In London last week, a frightful warning was sounded about encroaching tyranny. At an important conference, speaker after impassioned speaker warned of the peril to Western values posed by freedom-devouring sharia — the Islamic legal code. Like all tyrannies, sharia's first target is speech: Suppress all examination of Muslim radicalism by threats of prosecution and libel actions, and smugly call it "the rule of law."

But we may already be further gone than the London conferees feared. And without resort to the Islamicization that so startled them. For that, we can thank the campaign of Barack Obama.

I'll be blunt:

Sen. Obama and his supporters despise free expression

, the bedrock of American self-determinism and hence American democracy. What's more, like garden-variety despots, they see law not as a means of ensuring liberty but as a tool to intimidate and quell dissent.

We London conferees were fretting over speech codes, "hate speech" restrictions, "Islamophobia" provisions, and "libel tourism" — the use of less journalist-friendly defamation laws in foreign jurisdictions to eviscerate our First Amendment freedom to report, for example, on the nexus between ostensible Islamic charity and the funding of terrorist operations.

All the while, in St. Louis, local law-enforcement authorities, dominated by Democrat-party activists, were threatening libel prosecutions against Obama's political opposition. County Circuit Attorney Bob McCulloch and City Circuit Attorney Jennifer Joyce, abetted by a local sheriff and encouraged by the Obama campaign, warned that

members of the public who dared speak out against Obama during the campaign's crucial final weeks would face criminal libel charges — if, in the judgment of these conflicted officials, such criticism of their champion was "false."



The chill wind was bracing. The Taliban could not better rig matters.

The Prophet of Change is only to be admired, not questioned. In the stretch run of an American election, there is to be no examination of a candidate for the world's most powerful office — whether about his radical record, the fringe Leftism that lies beneath his thin, centrist veneer, his enabling of infanticide, his history of race-conscious politics, his proposals for unprecedented confiscation and distribution of private property (including a massive transfer of American wealth to third-world dictators through international bureaucrats), his ruinous economic policies that have helped leave Illinois a financial wreck, his place at the vortex of the credit market implosion that has put the U.S. economy on the brink of meltdown, his aggressive push for American withdrawal and defeat in Iraq, his easy gravitation to America-hating activists, be they preachers like Jeremiah Wright, terrorists like Bill Ayers, or Communists like Frank Marshall Davis. Comment on any of this and risk indictment or, at the very least, government harassment and exorbitant legal fees.



Nor was this an isolated incident.

[snipped several items - go read the article]

Obama may very well win the November election but he, like Sen. McCain, should be forced to win it fair and square: by persuading Americans that he is the superior candidate after our free society has had its customary free and open debate.

One understandably feels little sympathy for McCain here. His years-long assault on the First Amendment under the guise of campaign-finance "reform" has led inexorably to the brazenness of Obama's Chicago-style strong-arming. But the victim here is not McCain. The victim is democratic self-determination. The victim is our right to informed participation in a political community's most important decisions.

The victim is freedom.



Regardless of the legal landscape, however, it is the political consequences that matter. Day after day, Obama demonstrates that the "change" he represents is a severing of our body politic from the moorings that make us America.

If we idly stand by while he and his thugs kill free political debate, we die too.
We know the Treason Media won't report this - hell, they're fully on board as eager stenographers of whatever the Dear Fuhrer wishes done in His name - but the silence of supposed "free-speech advocates" is deafening? Could it be that they only want free speech that echoes their views? Will John McCain get over his man-crush on liberals and confront this false Messiah with this overwhelming bill of particulars in the last two debates or will he let Barry walk on water to the White House?
Duh.
Try to point out Obama's agenda and what do his Brownshirts shriek?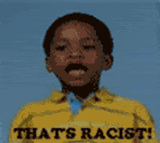 God help us, everyone.