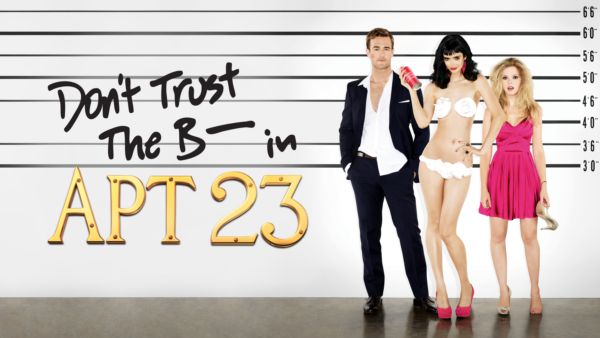 If you're a fan of Krysten Ritter from her her roles as Jessie's doomed junkie girlfriend in the second season of Breaking Bad or her three seasons as Jessica Jones, the Marvel-Netflix superhero series, but are unaware that she has amazing comedic chops, you owe yourself to watch the cruelly overlooked Don't Trust the B- in Apt. 23 from 2012-13 which was the recipient of perhaps the most egregious cases of of television network malpractice ever.
I'd first encountered Ritter in the 2010 rom-com She's Out of My League where she played the snarky friend of the lead, Alice Eve. While audiences were supposed to to pant along with lead dweeb Jay Baruchel for Eve, it was Ritter's dark beauty and tart persona that earned my notice. (Her character was like something Aubrey Plaza would play.) I hadn't finished the second season of Veronica Mars where she had a recurring role as Steve Guttenberg's daughter and catching up with Breaking Bad was a few years in the future, but she earned a coveted "watch out for her stuff" slot.
So when Don't Trust the B- was announced, I was all over it. As the titular bitch, Ritter played Chloe, a hard drinking, hard partying, extremely promiscuous young woman in NYC. We meet her when June (Dreama Walker), a naive woman from Indiana who moved to town to work on Wall Street discovers the moment she walks into the office on her first day that her company was being shut down by the Feds and that the deluxe apartment which was a perk of the job goes with it.
Desperate for a place to live, she runs through a rapid fire succession of prospects before meeting Chloe, who seems absolutely wonderful and June agrees to move in. However, she quickly learns that Chloe has made it a habit of driving roommates crazy and ripping them off on the rent, but rather than retreat to Hoosierslovakia, she will stand up to Chloe and find a way to make things work.
Rounding out the cast is Eric Andre as Mark, a guy who also lost his job on Wall Street, but landed at a coffee shop where he hires June, and James Van Der Beek who KILLS on the show in a meta performance as himself obviously inspired by Neil Patrick Harris' turns in the Harold and Kumar flicks. Hilariously vain and needy, he relies on his assistant Luther (a wonderfully mincing Ray Ford) for emotional support he's glad to provide.
Improperly handled, Chloe could've been extremely off-putting and grating, but thanks to exceptional writing and ace performances, it not just works, but soars. So of course it got cancelled after less than two truncated seasons. Which leads to the point of this post.

Has there a show that got more bent over and rogered as far as running shows randomly as Don't Trust The B-? They produced 26 episodes - two 13-episode seasons - but aired them almost randomly with a 7-episode first season, then airing the remaining six eps as a planned 19-episode second season, mixing story arcs at random, then deciding after airing 11 episodes to pull the show off the air and dump the final eight eps on Hulu, iTunes, and ABC's website.
Due to the haphazard and utterly random airing of episodes, story arcs like James competing on Dancing with the Stars and Chloe's subtle shift to being a little less of a beyatch and learning that kindness won't kill her and June's toughening up for life in the Big Apple were lost. But the extent of the randomness didn't truly reveal itself until I bought both seasons on Amazon and began to research the hash ABC had made of things. Finally, I found a correct running order list posted by James Van Der Beek himself that has been our guide in subsequent viewings of this wonderful show.
As of this writing, all 26 episodes are on Hulu in their incorrect broadcast order. Below is the order both seasons were intended to be viewed in. The season/episode numbers are when they aired, but as you can see, other than the first and last two of the first season and the final five of the last season, it was just a mess. We've watched this order twice and it works. Enjoy!

SEASON 1
S1E1 - "PILOT"
S1E2 - "DADDY'S GIRL"
S1E10 - "MEAN GIRLS"
S1E5 - "MAKING RENT"
S1E4 - "THE WEDDING"
S2E9 - "THE SCARLET NEIGHBOR"
S2E5 - "WHATEVER IT TAKES"
S1E6 - "IT'S JUST SEX"
S2E12 - "THE LEAK"
S1E3 - "PARENT TRAP"
S1E7 - "SHITAGI NASHI"
S2E6 - "BAR LIES"
S2E7 - "A WEEKEND IN THE HAMPTONS"
SEASON 2
S2E1 - "A REUNION"
S2E4 - "IT'S A MIRACLE"
S2E2 - "LOVE AND MONSTERS"
S2E3 - "SEXY PEOPLE"
S2E8 - "PARIS"
S2E14 - "TEDDY TROUBLE"
S2E13 - "MONDAY JUNE"
S2E11 - "DATING GAMES"
S2E15 - "THE D"
S2E16 - "THE SEVEN YEAR BITCH"
S2E17 - "USING PEOPLE"
S2E18 - "OCUPADO"
S2E19 - "ORIGINAL BITCH"