Well, not actually MY cat, since our beloved Princess passed away in April 2003 (while invading Iraq!), but the cats featured at My Cat Hates You dot com - a site dedicated to.....um.....well.....I'm guessing.....HATEFUL CATS!


Whaddya think? Should I send them a picture of P-Nut?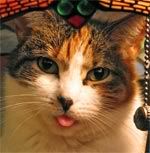 She's not some much "hateful" as much as kinda disdainful, ya know?