There was a time when Britney Spears filled a valuable need - to bring some meaningless joy back to music after a decade of groaning misery in the wake of miserable, self-absorbed killjoys like Nirvana and Pearl Jam. A couple of years back, you heard a lot about how "garage rock" was going to "save rock & roll" from Britney and the boy bands, but those people had it totally backwards: Britney and N*Sync saved music from Nirvana.

As she kept cranking out albums, the quality fell off noticably, sales suffered and nowadays our Lil' Louisiana Bayou Ho has busied herself with degrading the institution of marriage more than Barney Frank and Harvey Firestein could with a gift certificate to Muskie Bay Leather. She's got a Greatest Hits album coming soon....


...titled and burdened with a gawdawful cover of a song made famous by the Ike Turner-lite hsuband of another pop diva who threw it all away. (Guess you didn't really have it all, Whitney.) Speaking of gawdawful covers, WTF is THAT about?!?!? WTF is she wearing?!? Is that gorilla carcass or.....ugh....
After stealing away a father of two from some other poor woman, rumors abound that she's knocked up herself, especially after reading
this post from her website
:
Dear Fans,
I am going to start writing this column now as often as possible. The reason being is so I can talk directly to you, my fans, who have stuck by me & who continue to support me. Also, I'm not going to be as busy as my Mom. She's running behind my sister like crazy! I am also going to take some time off to enjoy life. I've actually learned to say "NO!" With this newly found freedom, its like people don't know how to act around me. Should we talk to her like we did when she was 16 or like the Icon everyone says she is? My prerogative right now is to just chill & let all of the other overexposed blondes on the cover of Us Weekly be your entertainment... GOOD LUCK GIRLS!! I'm sorry that my life seemed like it was all over the place the past 2 years, it's probably because IT WAS! I understand now what they mean when they talk about child stars. Going & going & going is all I've ever known since I was 15 years old. It's amazing what advisors will push you to do, even if it means taking a naive, young, blonde girl & putting her on the cover of every magazine.
I know now that my knee gave out on me this past summer so that I would have no choice but to stop. My body was shutting down and needed rest. It's funny how the Man upstairs works. Right now, I have to go-- I really want to watch "Saved" with Mandy Moore and re-runs of "Sex and the City." I want to enjoy all of the simple things that I missed over the past few years due to working way too much.
Being married is GREAT and I can't wait to start my family! There is so much change going on right now... not only with me, but in the world, as well. So, the next time you see my face, hear one of my songs or even if I'm the topic of your next conversation, please remember that times are changing & so am I.
Love always, Britney
P.S. I look forward to writing you all again soon. Kevin and I are finally able to take our Honeymoon!!
Feeling......woozy.......
Here's a better career move for her: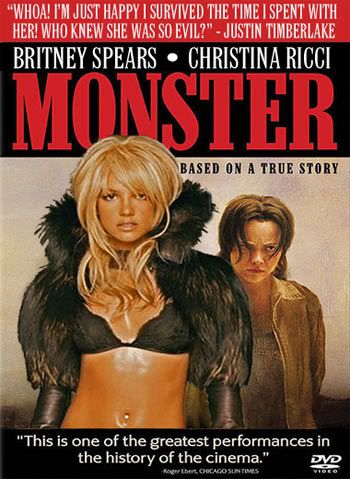 There's always a "Britney & X-tina vs. the Olson Twins Quad-Fisting Extravaganza" on pay-per-view if she needs to pay her man's child support bills or something.